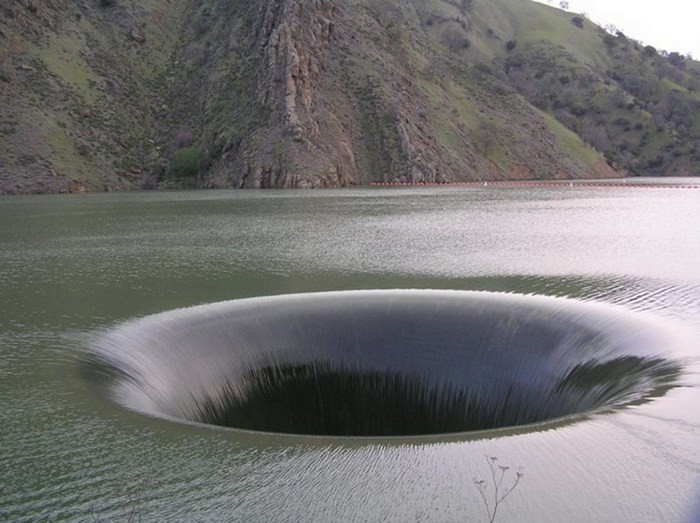 Think holes aren't interesting tourist destinations? You probably haven't seen the Monticello Dam Drain Hole yet. There are many giant holes on earth, natural and manmade, that are likely to leave you mesmerized or fascinated. You may want to consider visiting them for your next travel adventure.
Darvaza Gas Crater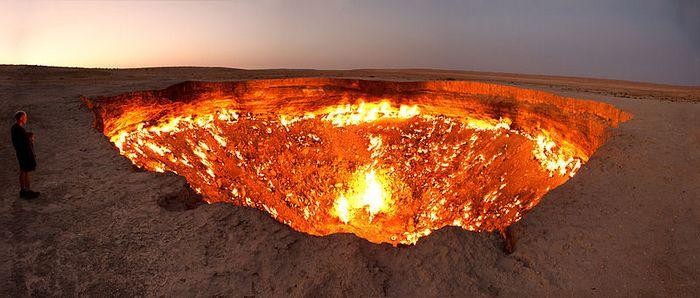 Also known as the "Door to Hell" and the "Crater of Fire," the Darvaza Crater in Derweze, Turkmenistan used to be a natural gas crater but has collapsed in 1971. It has since become a massive fire-filled cavern that is now a popular tourist attraction visited by thousands of tourists from different parts of the world. This hole has an area comparable to that of an American football field.
Bingham Canyon Mine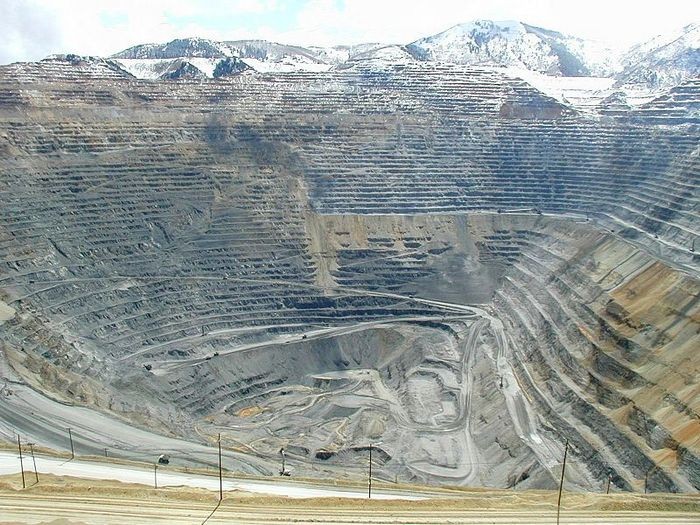 Referred to as the Kennecott Copper Mine by the locals of Salt Lake City, this approximately four-kilometer hole is the world's largest open pit mine and also the largest man-made excavation in the world. It looks distinctive with its mostly two-toned color. The mine started in 1906 and is still operational, under the ownership of the Rio Tinto Group. Nearly a kilometer in depth, it is one of the largest copper producers in the United States.
Mirny Diamond Mine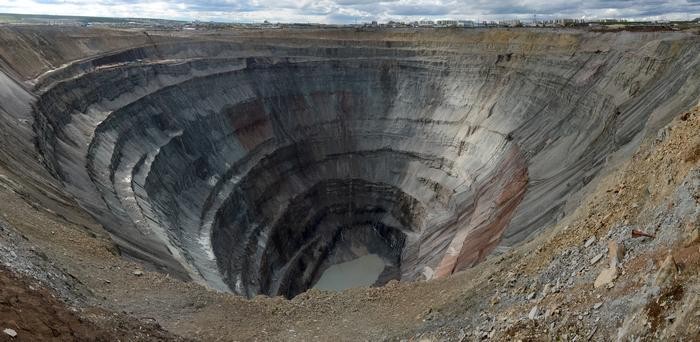 Also called the Mir Mine, this abandoned open pit diamond mine in the town of Mirny in Eastern Siberia may look unspectacular. However, when viewed from afar together with the town's communities, it looks like some otherworldly scene or the setting of a science fiction movie. The pit has a diameter of 1,200 meters and is the world's second largest excavated hole.
Diavik Diamond Mine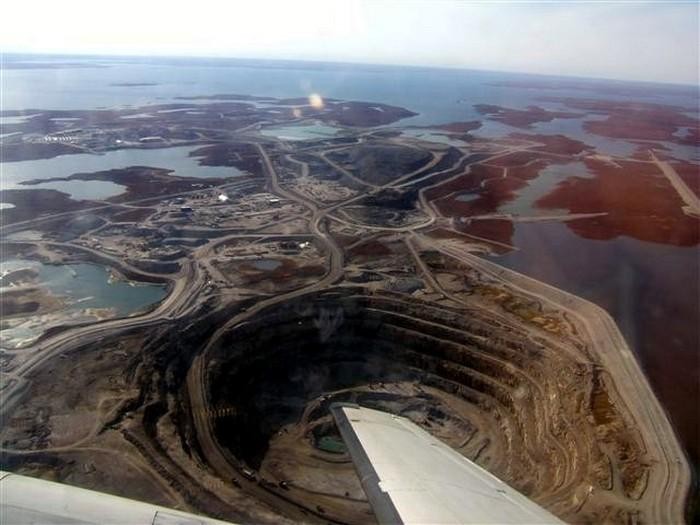 It may not be one of the top largest man-made holes in the world but Diavik Diamond Mine looks impressive as bodies of water almost surround it. Located in the North Slave Region of Canada's Northwest Territories, this mine is operated as a joint venture by Diavik Diamond Mines Inc. and Dominion Diamond Corporation. It is a relatively new mine that only started production in 2003 and is expected to have a lifespan of at most 22 years. This mine is the centerpiece in an industrial complex and town in a remote sub-Arctic area.
Monticello Dam Drain Hole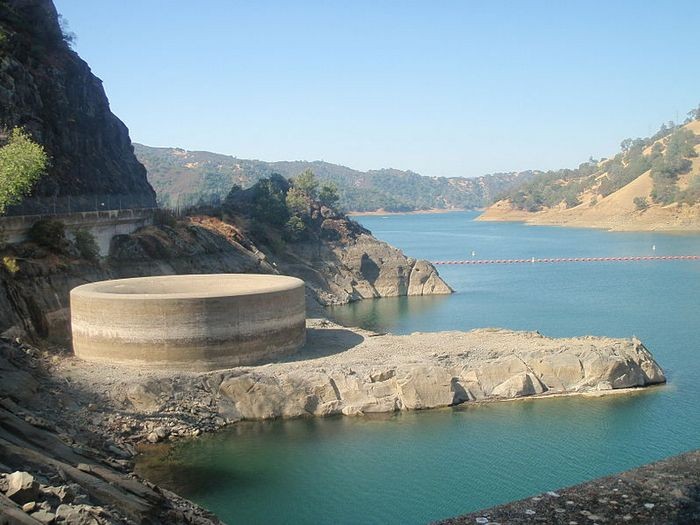 Considered the largest bell-mouth spillway of the world, this fascinating hole is situated in northern California, at one of the largest manmade lakes in the state. It's like the dreary hole in the middle of a whirlpool without the whirls. However, since it is a spillway, it does not always appear in the same way it is depicted in the photo above. Often, what is visible is only the giant funnel-shaped cement spillway protruding from the water, which looks rather ordinary and unimpressive. The Monticello Dam rarely spills so seeing the hole in its most impressive form is a rarity, hence a special experience.
Chand Baori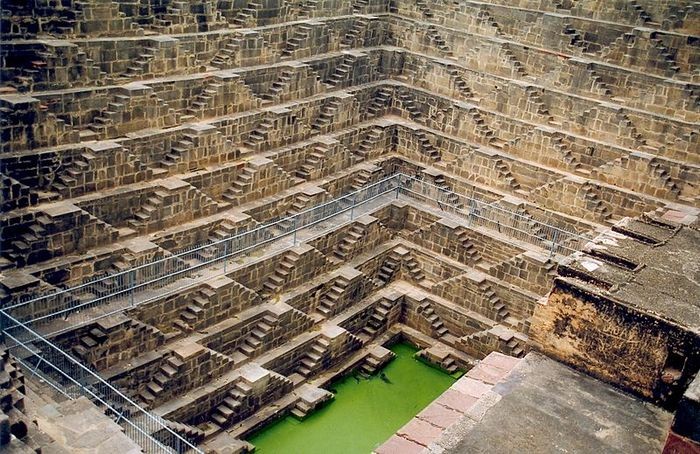 A stepwell in the village of Abhaneri in India, Chand Baori is not one of the biggest holes ever created by man. However, it stands out because of its interesting appearance and the tale surrounding it. With a 30-meter depth, this well was created by locals to become a reliable year-round water source. It has 13 floors and a multitude of stairs with a total of 3,500 steps. It is said that ghosts were involved in the building of the steps and that it is impossible for a coine to be retrieved once it has been dropped into the well.
Morning Glory Hole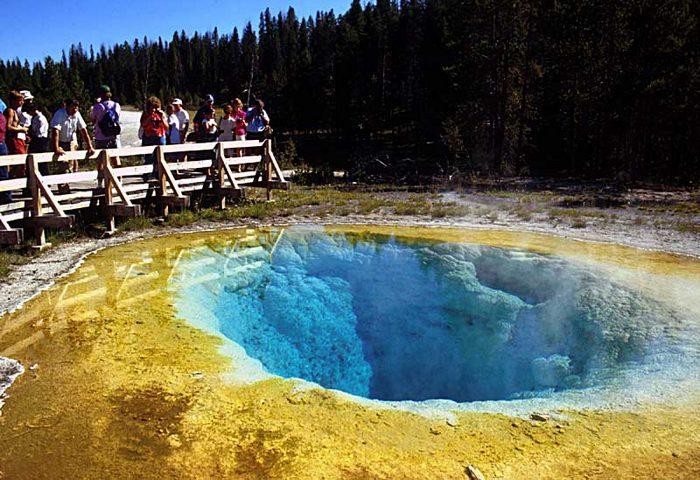 Also called the Morning Glory Pool, this unique water-filled hole located in the Yellowstone National Park's Upper Geyser Basin is a hot spring so named because of its resemblance to the morning glory flower. The pool's color is due to the presence of a specific kind of thermally-adapted algae and other microorganisms.
Kimberley's The Big Hole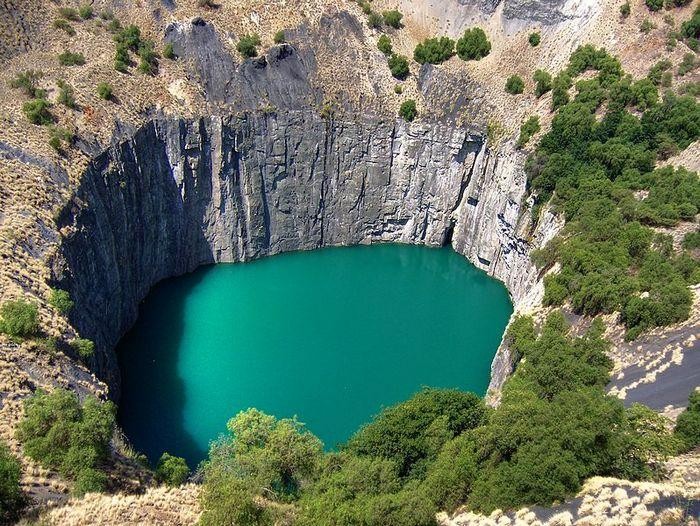 Once believed to be the largest hole on Earth excavated by hand, the Big Hole in Kimberley, Northern Cape is an underground diamond mine with a surface area of 17 hectares or a width of 463 meters. It was originally 240 meters deep but has since been filled with debris that its depth has now been reduced to 215 meters.
Jagersfontein Mine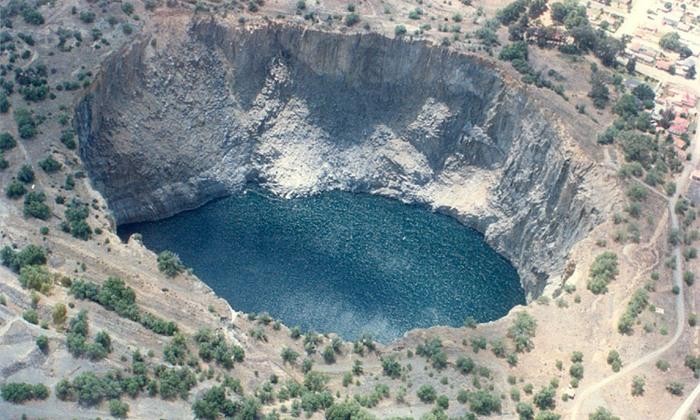 With an area of more than 19 hectares, Jagersfontein Mine is the world's largest hand-excavated hole. It was an open pit mine (closed in 1971) in South Africa situated near the town of Jagersfontein and around 110 kilometers to the southwest of Bloemfontein. This South African mine yielded two of the ten biggest diamonds ever discovered on Earth and has produced approximately 9.6 million carats of jewel-quality diamonds.
Great Blue Hole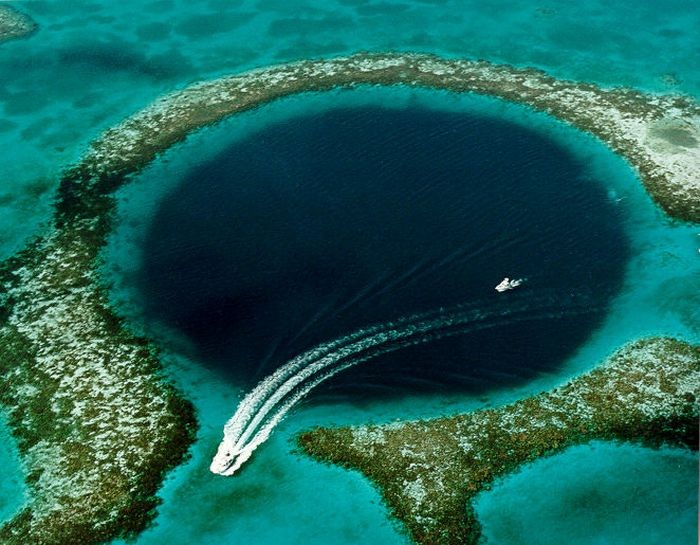 Despite its near-perfect circular shape, the "Great Blue Hole" in the Barrier Reef Reserve System in Belize is a natural sea hole. It is the largest sea hole ever discovered with a width of around 300 meters and depth of around 125 meters. This majestic water-filled black hole surrounded by pristine blue waters was created as a consequence of the rise in sea level around 65,000 years ago.
So what do you think? Interested in giving these atypical tourist spots a visit now? Don't quickly dismiss these holes as mere holes. There's something impressive about them that will surely pique your interest.